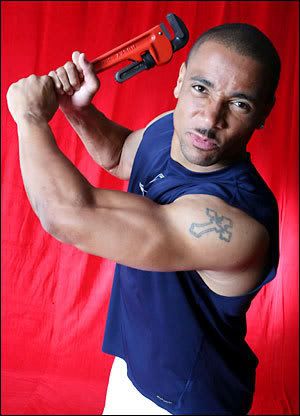 Its not surprising that numerous Pats fans have been crying foul over the Brady hit by Bernard Pollard. Hell, even
Vince Wilfork
and
Randy Moss
believe so.
Many
Pats fans
(Personally, I like to imagine the proprietors of Sox and Dawgs as a red faced bunch of pissed off Boston Irish folks punching the keyboard as they typed that) and personnel have had an opinion on the hit, but one man's opinion is clearly missing...
That of Rodney Harrison.
Numerous
Google Searches
for Harrison
have revealed little
So where is the
NFL's dirtiest player
to comment on this dirty play? (Oh, you say the poll is too old? How about this
Coaches Poll
from earlier this summer?) I can even image good ole Bill Belichick answer it and thinking: "Yeah, Harrison...whatever." The real facts are, 18 coaches were polled and 11 said Harrison right off the bat. Second place? Roy Williams with...two votes...
So Rodney, care to weigh in on the hit? Do you think it was dirty...Well really, would you have done it? (yeah ya would, don't lie)