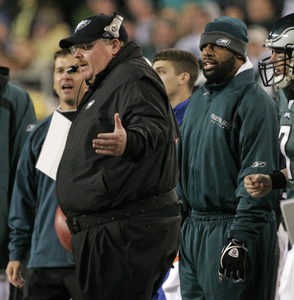 If you haven't noticed, lately there's been a bit of contempt amongst Eagles fans over the fate of Andy Reid. Most notably, the
fire
Andy
Reid
movements
have driven up a lot of interest, especially after last Sunday's debacle to the Bungles.
Out of this came a debate between myself, some friends and a resulting message board conversation amongst some Eagles fans. Many of them believe Andy Reid should be fired. I'm not an apologist, but amongst the reasons for firing him: He can't draft, he's a terrible game day coach, his game plan sucks and he cannot adjust. This may or may not be true, but if he can't do any of those, then I fail to understand how he's a mediocre coach (his record is 1 game above .500 since the Super Bowl run of 2004). Assuming that between the seasons of 1999 (his first year) and 2004 (his best year) he was only partially responsible (between the Ray Rhodes Era and the Tom Modrak era, the latter of which ended in 2001 and left Reid essentially in total control) for the quality of players on his team.
Now the debate has shifted to Donovan McNabb, who didn't know you could tie an NFL game. The Eagles front office appears to be exacting revenge on McNabb and setting him up as the scape goat and even some fans have turned on him. But who's really to blame? After all, Reid called the plays, kept his quarterback in, prepared the game plan, so on and so forth.
So after much debate, I'm curious as to how good of a drafter Andy Reid and Company really is. And while its easy to point strike down the drafting of the likes of Quinton Caver or Jerome McDougal, its unfair to say that he missed without comparing it to the hit rates of other long term, successful head coaches.
So over the next week or so, BNB will be examining the drafts of certain comparable NFL regimes over the last decade or so. We will be scoring them based on quality of player, hit rate of draft position and value. We're still considering certain NFL regimes to compare but the following could be considered an incomplete list:
New England Patriots
Denver Broncos
Jacksonville Jaguars
Dallas Cowboys
Chicago Bears
Atlanta Falcons

I'm still tweaking a scoring system, so your input is appreciated if you'd like to have a say (Justin@badnewsbloggers.com). We'll try to score one draft per day and provide a composite comparison sometime next week. Who knows, maybe we can even discover the true "Gold Standard" of draft experts.